Best camera drones in India 2021
DGCA  lifted the long running blanket ban on drones back in 2018 making the use of drone cameras legal in India.
Drones have become far more than just simple aerial toys that they used to be. Drone cameras allow professional photography and videography of landscapes, buildings and unreachable places which can only be done before with the help of a helicopter or a hefty big crane!
The Indian government and the drone flying community have had a tense relationship ever since the ban was lifted.But drone flying is still prevalent and ever growing among the Indian crowd.
Drones are a great investment for budding or professional  photo and videographers as it's a no brainer that a drone camera is a must if you want to add production value to your photography or videography by adding scenic aerial shots.
But those scenic aerial shots have a hefty price tag, you get what you paid for. If you want to invest in a good drone that can capture stunning footage you need to be ready to spend some serious cash. So research is must before buying a drone.
Even though the market is dominated by DJI drones there are a few underdogs that are trying to make it big  in the Indian market. We at techoids have curated a list of the best drones that you can buy in India to help you narrow down your search for your perfect match!
What to look for while buying a drone
GPS
According to the DGCA, GPS is a mandatory feature to have for flying drones in India.
The positioning system helps the drone to keep its position stable, you don't want your drone to be flowing with the breeze!
It not only helps in stabilizing drones position but it also enables automatic return to the take off point if the drone loses control or if the battery is on the verge of dying.
Controller
Most of the controllers work by sending a radio signal to the drone, which tells the drone what to do.
Some of the lower standard controllers use Wi-Fi to send the signals to the drone, these controllers usually have poor range (around 100m). Some drones might also use a smartphone as a controller. A good controller range is important if you want better accessibility.
Camera & gimbal
If you are just getting into flying drones, a drone camera close to 2MP would be able to shoot decent photos and videos. But professionals who want high quality footage can go for 1080p HD or 4k quality cameras as well.
Some high standard drones often come with stabilization features such as gimbals. even though the inclusion of a gimbal ramps the drone's price up the smooth high quality footage that you get  pays it all off!
Battery
Drones can have either rechargeable or replaceable batteries. If you want to fly your drone for a long periods of time, look for drones with interchangeable batteries. Swapping batteries with spare ones will allow you to take another go at capturing that perfect shot!
The App

Some of the drones might use a smartphone as a controller. The apps that come bundled with the drone will have virtual buttons and various different features to control and monitor your drone.
Before investing into a drone that uses a smartphone controller, it's better to check the usability of the app. Ending up with an app with bad UI and usability would significantly hinder your flying experience.
Flight time
Flight time of your drone mainly depends upon the battery and the type of your drone (nano, micro). Usually flight times range from 8-30 minutes.
Most of the nano drones will have 8-12 minutes of flight time while micro drones can have 30+ minutes of flight time.
It's crucial to choose a drone with a decent flight time as it affects the quality and length of the footage that you will be capturing.
Type
According to the standards of DGCA drones in India are classified according to their weight. Some of the drone types that are available in the market are nano, micro, small, medium and large drones.
To fly a drone in India all drones except nano ones require permission. So when you are buying a drone look out for its type!
Here's the list of drones that we recommend!
Best budget drone!
Video quality: 720P HD
Drone camera quality: 5MP
Flight time: 13 minutes
Flight distance: 100m
Type: Nano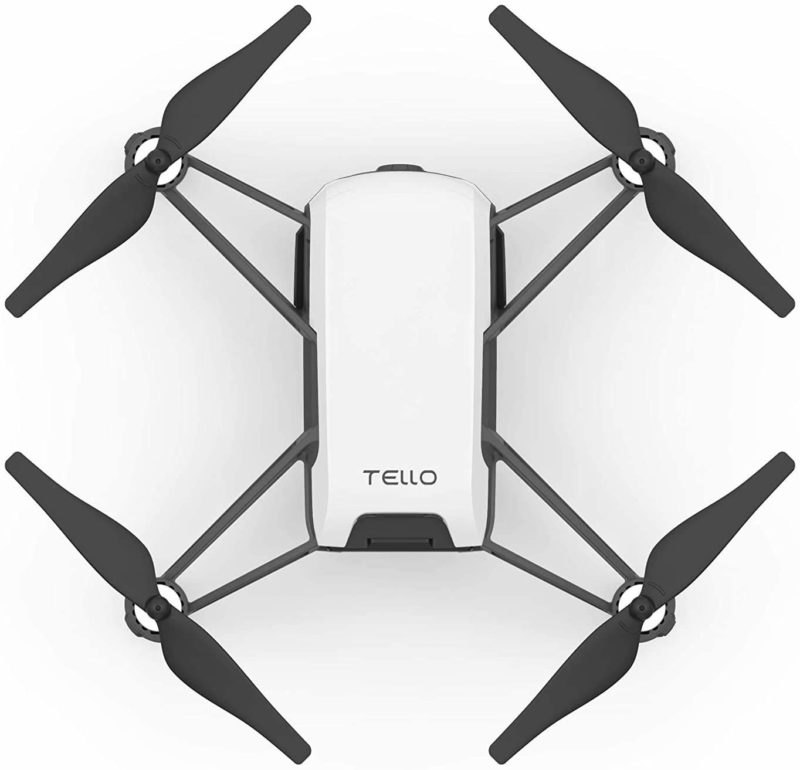 Whether you are a novice or an experienced pilot, Ryze tello provides a great stable and powerful flying experience at an affordable price.
Ryze tello or DJI tello is equipped with a 5MP camera. It has an electronic image stabilization (EIS) feature which reduces the blurriness. The drone's camera streams a 720P HD video which is decent considering the price range.
Tello a quadcopter is a simple and lightweight drone whose battery can churn up to a reasonable 13 minutes of flight time with 100m of range. The intelligent sensors at the bottom helps the drone to stabilize as well as allows it to perform a bunch of automated tricks.
The bundled smartphone app acts as a controller for Ryze tello. The app is very user friendly and feels very responsive. It has an easy to understand twin stick layout, the taking off, landing and other features are straightforward and nicely integrated within the app.
Even though the Ryze tello weighs just about 235g its stabilizing features do a good job at keeping its position intact. Due to its weight it falls under the nano drone category which means you won't have to take permission before every flight.
✔️ Easy to pilot
✔️ Image stabilization by electronic image stabilization (EIS)
✔️ Decent battery life
Who is it for: Hobbyists who want to invest in a drone to just capture casual footage on trips and picnics.
A 4K option in a compact size!
Video quality: 4k 30fps
Drone camera quality: 12MP 
Flight time: 31 minutes
Flight distance: 10Km
Type: Nano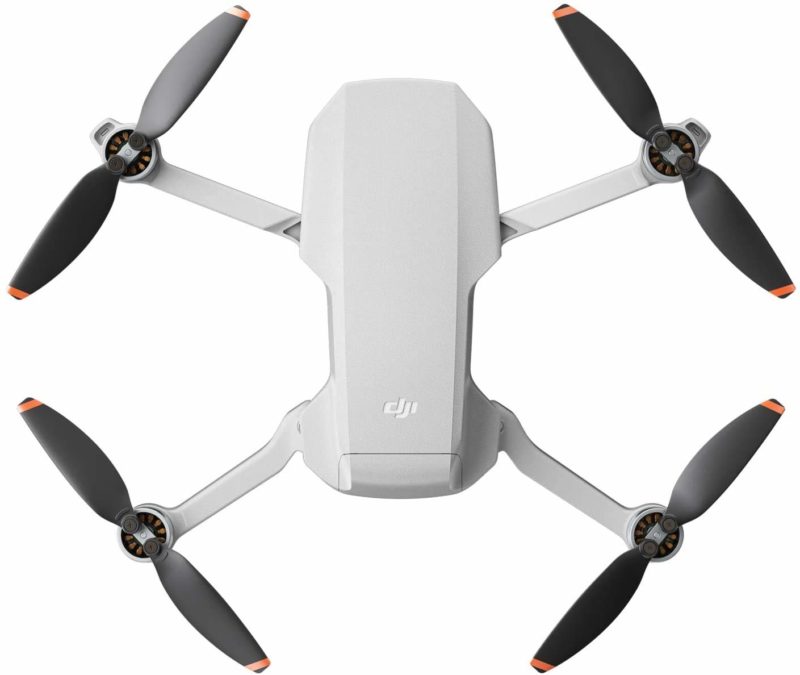 Building up on its predecessor(DJI mini), DJI mini 2 adds a lot of additional features that DJI mini lacked and in the process introduces us to its own special treats!
Mini 2 has a lightweight airframe body which makes it good for carrying around and also its foldable wing design makes it more compact! Despite having such a light body, Mini 2 feels strong and reliable.
This quadcopter drone features a 3 axis gimbal and a 12MP 4K camera. The gimbal smooths out the footage during sharp twists and turns.
Mini 2 comes with a controller unlike its predecessor. The new and improved controller boasts a range of upto 10km and comes with a great battery life.
It also has DJI drones signature quickshot feature in which the drone keeps the camera on you and performs cool pre planned tricks! It helps in taking dramatic professional-like footage with just a click of a button.
✔️ Compact and portable design
✔️ Great range
✔️ 4K video quality on budget!
Who is it for: Hobbyists who are looking for a drone with 4K video capturing abilities.
Paired with a powerful Hasselblad camera!
Video quality: 4K HDR
Drone camera quality: 20MP
Flight time: 31 minutes
Flight distance: 8Km
Type: micro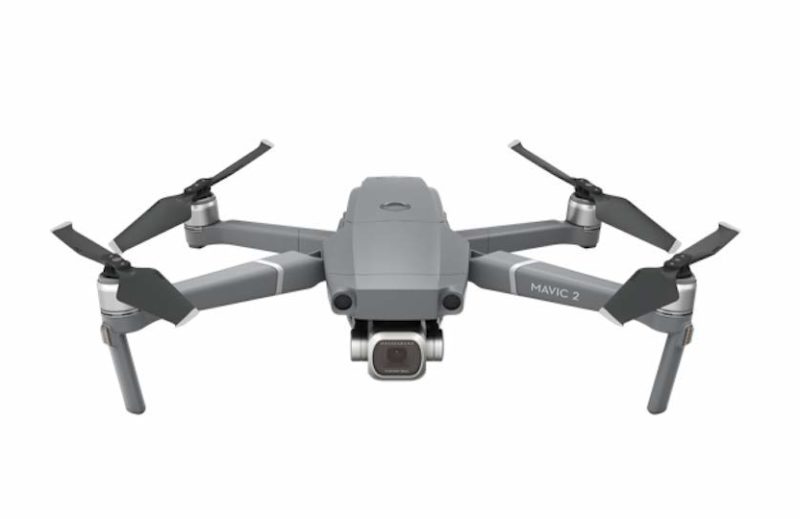 DJI Mavic 2 pro comes with a 20MP Hasselblad L1D-20c drone camera which can shoot videos at 4K 30fps. Hasselblad's cameras are no stranger to spotlight and that too for a good reason, having a drone camera of that quality is a really good deal breaker! The 1-inch sensor of 20 megapixels also offers manual controls for color grading and aperture. This makes it good for professionals who will get to tweak the settings to get that perfect shot!
The Mavic 2 pro weighs at 907g and the quadcopter also has foldable wings making it a decent option to carry around.
It has an impressive battery life of 31 minutes and a range of around 8KM, which makes it ideal for travel vloggers who may use it to capture longer aerial footage.
This DJI drone comes with a controller that supports removable thumb sticks and flight screen. It even has the capability to switch between 2.4gHz and 5.8gHz frequency.
The drone camera comes equipped with DJI's Quickshots feature. Quickshots provides a huge range of automatic shots that the drone can perform while following a target.
✔️ 1 inch sensor
✔️ Great camera quality
✔️ Impressive flight time and range
Who is it for: Professionals who are willing to make a serious investment.
Great for aerial photography!
Video quality: 4k 30fps
Drone camera quality: 12MP
Flight time: 31 minutes
Flight distance: 10KM
Type: micro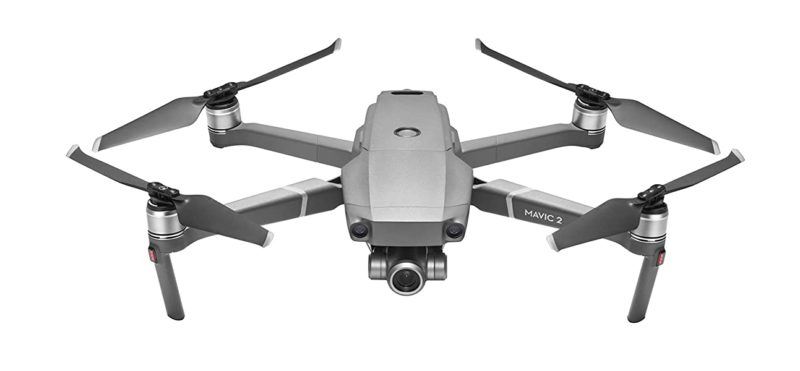 DJI mavic 2 zoom is a variant in the DJI mavic 2 series(the other one being DJI Mavic 2 pro). The feature that sets it apart from DJI mavic 2 pro is it's different camera (Mavic 2 pro has a Hasselblad camera). This camera is capable of zooming 4x making it good for aerial photography.
But the zooming ability comes with a tradeoff, Mavic 2's zoom reduces the quality to 1080p from 4K when zoomed in.
Mavic 2 zoom weighs around 905g and has a compact design as it is foldable. It's a good option to carry around while travelling.
The controller is similar to what you would find in a mavic series drone and is incredibly compact. It uses a dual frequency system to offer a range of upto 10km.
This quadcopter DJI drone has an impressive run time of 31 minutes and it captures videos at 4K@30fps but reduces quality to 1080p when zoomed in. You can even switch to the 1080p@120fps mode while not zoomed in to capture videos.
✔️ zooming in capabilities
✔️ Compact and light
✔️ Great flight time and range
Who is it for: Professionals who want to capture detailed more object centric footage like wildlife photographers and videographers.
A feature rich underdog in the DJI dominated market!
Video quality: 4K@60fps
Drone camera quality: 12MP
Flight time: 30 minutes
Flight distance: 6KM
Type: micro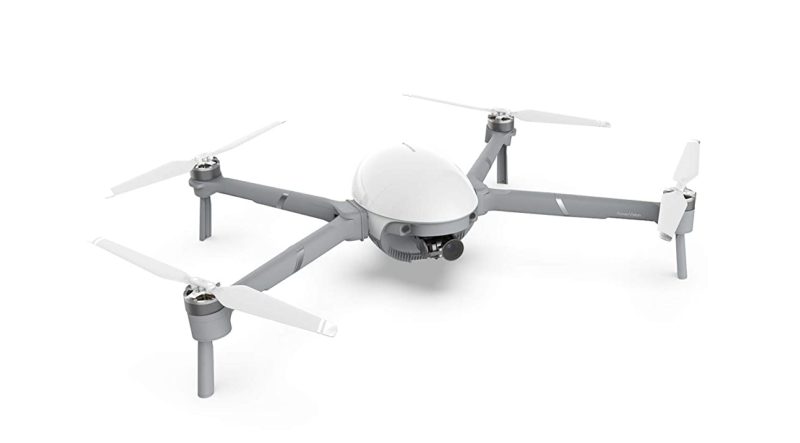 In a DJI drone dominated market poweregg x is the only drone that stands out, that too because of its distinctive features. Features like its egg or orb like design! Which allows it to fly in rain and to land on water! (if coupled with the wizard bundle) This feature opens up a range of creative possibilities that professionals can pull off!
Poweregg x can also be used as a standalone handheld gimbal camera. By detaching the propellers you can transform Poweregg x into an autonomous AI camera that can even be mounted on a tripod.
This Poweregg  quadcopter drone has a good run time of 31 minutes and has a decent range of 6km.
The drone camera can capture images at 12MP and can capture video footage at 4K@60fps.
Poweregg x does great with accessibility and portability but it falls short when it comes to camera quality where DJI drones are clearly better.
✔️ Able to fly in bad weather (if paired with the wizard bundle)
✔️ Converts into a handheld camera.
Who is it for: Hobbyists as well professionals who are looking for a cool all weather drone to capture footage in rain or even in bad weather!
A lightweight scouting drone!
Video quality: 720P HD
Drone camera quality: 15MP
Flight time: 20-25 minutes
Flight distance: 2KM
Type: micro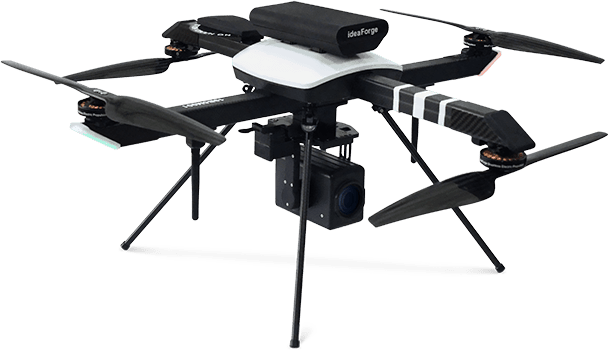 Ideaforge's Ninja UAV is a lightweight micro drone which is marketed by the company as a mapping and a surveillance drone. It's a reliable NPNT compliant micro drone.
It comes with a 15MP camera that can capture footage at 720P HD. The drone also comes with a thermal payload which can be used for thermal image scanning. The camera also features a 5x optical zoom. Being a military grade drone, Ninja UAV is also capable of capturing footage at night.
The drone has a 2kg  take off weight and has a decent operational range of 2KM. It has a good runtime of around 20-25 minutes.
Ninja UAV is built with military precision for enterprise applications, it comes with military grade features such as autopilot, flight area breach prevention, thermal scanning and mapping, independent GPS tracking and a fire resistant UIN plate.
The drone is only available for purchase at the Ideaforge's official website.
✔️ Tough and reliable body.
✔️Can be used at night also (thermal imaging).
✔️Compliant with all of the mandatory DGCA features
Who is it for: Professionals working in extreme environments or professionals in need for a surveillance drone for a particular area.
Frequently asked questions
What is the limit of flying drones in India?
Micro and nano drones should not cross the limit of 60 meters while small drones can fly upto 120 meters vertically. All of the drones should maintain their speed below 25 meters per second.
I have a Nano drone, what permissions do I require?
Nano drones (less than 250g) do not require a UIN to fly.
What is a UIN and how to acquire it?
UIN is a unique identification number issued by DGCA for a particular drone. You register for a UIN on digital sky's platform. Check this guide for detailed information on hoe to obtain a UIN.
How much is the fees for obtaining a UIN?
One thousand rupees (Rs.1000/-)
What will be the actions performed in the case of violation of DGCA rules and regulations?
The UIN of the drone will get suspended/cancelled in case of violations of rules and regulations provided by DGCA
Individuals operating a drone without a valid license will have to pay a fine of INR 25,000.
Individuals flying in the no fly zone will be obliged to pay a fine of INR 50,000.
What areas are classified as No Fly Zones?
No fly zones include area such as airports, government buildings and international borders.
Can i use the UIN of a deprecated drone on a new drone of the same model and maker?
No, the pilot should apply for a fresh UIN for the new drone.
What is NPNT?
No permission, no takeoff (NPNT) is a software program that allows every drone (except nano drones) to get permission from the Digital Sky Platform before every flight in India. It is mandatory to obtain permission before every flight, if not taken the drone will simply not fly.
What are the mandatory features that a drone should have in India?
All drones (except nano) should have GPS, return to home(RTH) feature, Anti collision light, ID plate, a controller with flight data logging capabilities.
Rules that you need to follow while flying drones in India.
According to the Ministry of civil aviation, flying a drone is legal in India. After DGCA (Directorate general of civil aviation) lifted the ban on drones back in 2018 CAR (Civil Aviation Requirements) for drones was formed which came into effect on December 1,2018.
Drones in India are categorized according to their weight:
Nano: Less than or equal to 250 grams
Micro: From 250 grams (.55 pounds) to 2kg
Small: From 2kg (4.4 pounds) to 25kg
Medium: From 25kg (55 pounds) to 150kg
Large: Greater than 150kg
Nano drones require no registration while all the others need to get registered from DGCA after which they will obtain their unique identification number(UIN) for their drone.
Registered drones need to take permission from India's digital sky platform before every single flight. This is being called India's "No permission, No takeoff" (NPNT) system. If a pilot tries to fly his/her drone without taking permission they will simply not be able to take off.
Users who own a small, medium or a large drone need a pilot license to fly the drone in India. Anyone who is 18 years of age and has passed 10th grade can obtain this license. The pilots will have to go for a mandatory 35 hours of training to obtain this license. Information about how to register as a pilot can be found here.
Foreigners are currently not allowed to fly drones in India. Although they can turn their drone to an indian personnel who can then obtain a unique identification number from the DGCA.
Drones can be flown as long as they are within the visual limits of the pilot and are flown outside the "No fly zones". These no fly zones include airports, international borders and government buildings.
These are the mandatory features that a drone flown in India should have:
GPS
ID plate
Controller with flight data logging feature
Anti collision light
TLDR:
Registration and UIN (Unique identification number) are necessary for every drone except the nano category.
No drone should surpass the limit of 400 feet vertically.
Drones should be in the limits of the pilot's line of vision.
Flying drones is restricted in the "No fly zone", these zones include airports, government buildings and international borders.
Permission from digital sky platform is necessary before every flight.
Registration of pilots with small, medium and large drone is mandatory.
More information on rules and regulations of flying drones in India can be found on the DGCA website.
Conclusion
DJI drones are currently dominating the Indian market. Due to the recent legalization of drones in India, the drone market is fairly new. So if you want to invest in a drone right now go for DJI drones.
The coming years might prove important for the industry as we are seeing new companies taking chances and diving into the ever growing Indian market. While products like Poweregg x lack a bunch of features that DJI's drones have, we might see a huge surge in their demand because of their distinctive features.
If you are a hobbyist and you just need a drone to capture footage on your trips and picnics, you should go for Ryze tello which gives you a decent amount of power and features to have fun with and as it is a nano drone you will don't have to request for permission every time you want to fly it, or if you have a bigger budget you can go for DJI mini 2.
If you are looking for a drone to capture high quality footage for travel vlogs or professional projects you should definitely go for DJI mavic 2 pro which has absolutely everything needed to capture great footage.