Yahoo Webmaster Tools – How to submit a site to Yahoo?
Have you ever wondered where is Yahoo Webmaster Tools? And, how to submit a URL/site to Yahoo? You probably already have used Google Webmaster tools and maybe even Bing's Webmaster tools, but you have finally ended up on this page during your futile attempts in searching for yahoo's webmaster tools.
The thing is, Yahoo does not have their own webmaster tools, however that doesn't mean you can't submit a site to Yahoo. Until a few months ago they had this page to show you where to submit your website, but after their Verizon acquisition, this site has started to get redirected to Yahoo's homepage.
submit.search.yahoo.com
Here is a screenshot of the above link –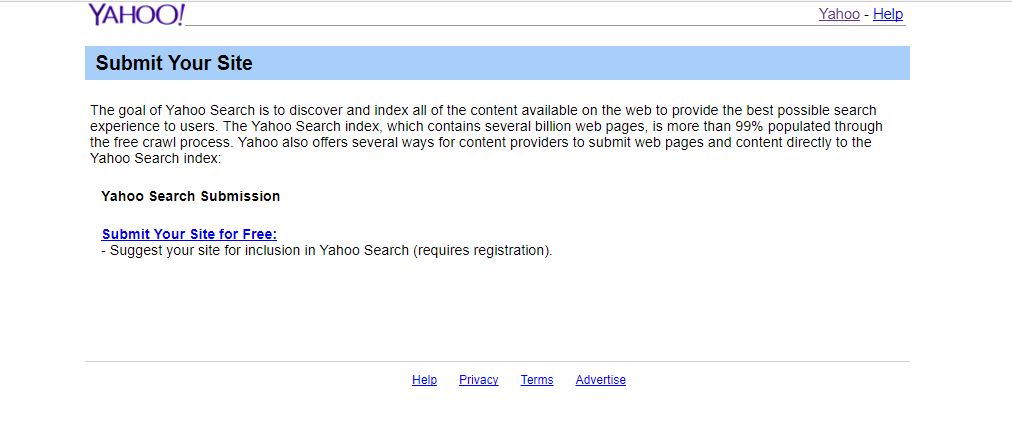 But don't worry, that was a useless page. The only thing that page had was a link called "Submit Your Site for Free" which redirects you to *surprise*surprise* Bing Webmaster Tools! Yes, Bing!
When Google became too large to compete, Yahoo and Bing joined together in their efforts to stay relevant. So, they decided to have same webmaster tools for both search engines. Bing also partnered with AOL, and Bing is powering the search engine functionality of Yahoo and AOL as well. It is said that DuckDuckGo search engine also has some deal with Bing in terms of data sharing.
Inshort, You can use Bing Webmaster tools and the data will be shared with Yahoo too, although I have noticed that you will first see results on Bing, and the site will show up on Yahoo only after few weeks. Maybe there is a data relay delay, but it works. Now, even Yahoo recommends you to use Bing webmaster tools in their own site
Don't Ignore Bing, it may not be your primary source of traffic, but if you optimize properly, you can get 20 to 30% of traffic from Bing, Yahoo and co.
Tl;Dr – Use Bing Webmaster Tools, It works for both Yahoo and Bing.