Best Monitors For Editing Under 15000 in India
Editing has become a really big part of the world. From the advertisements we see on the television to the wedding pictures of your loved ones, editing is a part of everything. Therefore, we can see how editing has taken over the world. Be it picture editing or video editing, one thing for certain is that both need a good colour-producing screen so that the editing is on point and compliments the skills of the editor. Hence, a good monitor or display is very important for editing. This article will discuss the best monitors for editing, both videos, and pictures.
If one uses a monitor which is not up to the mark, the final product will not be edited properly and the colour correction will make the final work appear sub-par. Newer displays boast about high resolutions, high-quality panels, pixel density, and many other things. So, in order to know and decide which monitor would be the best for us, we should first know what all to look for in a monitor we want to purchase for editing.
Panel type:
The panel type of your display affects the quality of the image produced. The different types of panels change the way the monitor works. The panel isn't one single layer but an amalgamation of the polarizing film, colour filter, liquid crystal, etc. Thus, it is formed through multiple parts together. The three most popular types of panels are TN, VA, and IPS panels. They are discussed briefly below.
Twisted Nematic Panels- The TN panels are a very common type of panels. They are especially popular on laptops. They offer lower latency than other displays. However, this does come at a cost. Due to their design, their viewing angles are sub-par. They offer a very low-quality viewing experience if they are viewed from anywhere other than at a fixed point from the centre. Therefore, TN panels are not recommended for editing purposes generally.
In Plane Switching Panels- The IPS panels are the most popular panels in this list. The IPS panels offer a high colour contrast ratio, which makes them very suitable for editing purposes. However, their biggest strength is that they offer the same quality from all angles. Thus, viewing angles don't affect the quality of the colours or of the image in these panels.
These panels offer different colour depths, but are overall all are good for editing. They do suffer from colour production issues in a few lighting conditions too. However, the more expensive the display you purchase, the lesser is the chance of facing these defects.
Vertical Alignment Panels- VA Panels are a rarer and rather newer form of panel in the market. They offer the highest contrast ratio, but in all other things, they are worse than IPS panels, but better than TN panels. In the future, they may become a great choice if they keep improving. However, currently, they are not worth the price.
Organic Light Emitting Diode Panels- The OLED panels are mostly used in TVs. They provide a higher colour contrast, better depth, better viewing angles. In short, they do everything better than LCD panels, however, they are very expensive as well.
Screen Size:
The screen size isn't something that is of paramount importance when it comes to selecting the correct display monitor for editing. However, the display size should be something you are comfortable with. For example, a display that is too small for you might put more strain on your eyes and lead to worse editing. This is usually a subjective choice. Hence, there is no right or wrong choice. However, people usually prefer bigger displays as they offer a more comfortable display.
But if you are keen on traveling a lot while editing, a laptop with a display smaller than 20 inches is a good choice. Hence, this depends on your needs and requirements.
Screen Resolution:
The screen resolution supported by your display is a major factor too. This is essentially important because the highest resolution supported by your display will limit the resolution of your work. For example, if you regularly work to edit 4K footage, but you have a 1080p monitor, your work will not be great. You will be severely hindered by the limited resolution of your display. Similarly, buying a 4K display is a waste of money, if you work with 1080p resolution material only.
Therefore, depending on your needs, you should decide which resolution is good enough for you. If you plan on using the device for a long period of time in the future, we would suggest purchasing a 4K monitor to be secure for the future. Otherwise, a 1080p display is also sufficient.
Pixels per inch (PPI):
Combining the screen resolution and the screen size, we get something which is called the PPI. The PPI simply means how many pixels the monitor displays in an inch. It was a myth that photo editing didn't require a higher PPI than 72. This has been busted. A higher PPI is preferred. The higher the PPI, the sharper is the image displayed on your monitor. Hence, higher PPI monitors are preferred for editing.
Colour Depth:
The higher the colour depth of the monitor, the better the colours and details appear. This helps to edit and add even the slightest details to your work. Thus, through deeper colour depth, you get a wider range to edit your project. However, high colour depth monitors also need the hardware to support them.
For most people, however, an 8-bit colour depth monitor is good enough. The higher-end ones should only be bought if the user wants to define and edit all the small details.
Colour Gamut:
The Gamut is the range of the colour. It means how much percent the monitor covers. The wider the gamut range, the better are the details and the colours. There are generally two types of gamut monitors- standard gamut and wide gamut.
The standard gamut is the cheaper option but offers a limited colour display. Wide gamut monitors are more expensive but offer much higher quality. The natural colours appear much better in wide gamut monitors, thus making them a better choice for landscape photographers. If you have the budget, definitely go for a wide colour gamut supporting monitor.
Calibration:
The most overlooked part of the monitors is the calibration. No matter how your display is, you should always calibrate it manually to get the best viewing quality. Some higher-end monitors offer hardware-supported LUT calibration. Even if your display doesn't support that, you can always use softwares to calibrate the display to your liking.
Connectivity:
The connectivity of the display matters too. If you plan to use the display with various devices, the connectivity support is of the utmost importance. However, one thing which should be kept in mind is that your device's hardware supports that connectivity feature.
These are the main things that should be kept in mind while selecting a display for your editing requirements. A more in-depth explanation is given in another article on this website.
Now we come to the list of the best monitors for editing under 15,000. This list will only have monitors which are good for entry-level or novice-level editing. If you are a professional and want a better quality of work, you need to increase your budget.
BEST MONITORS FOR EDITING UNDER 15000: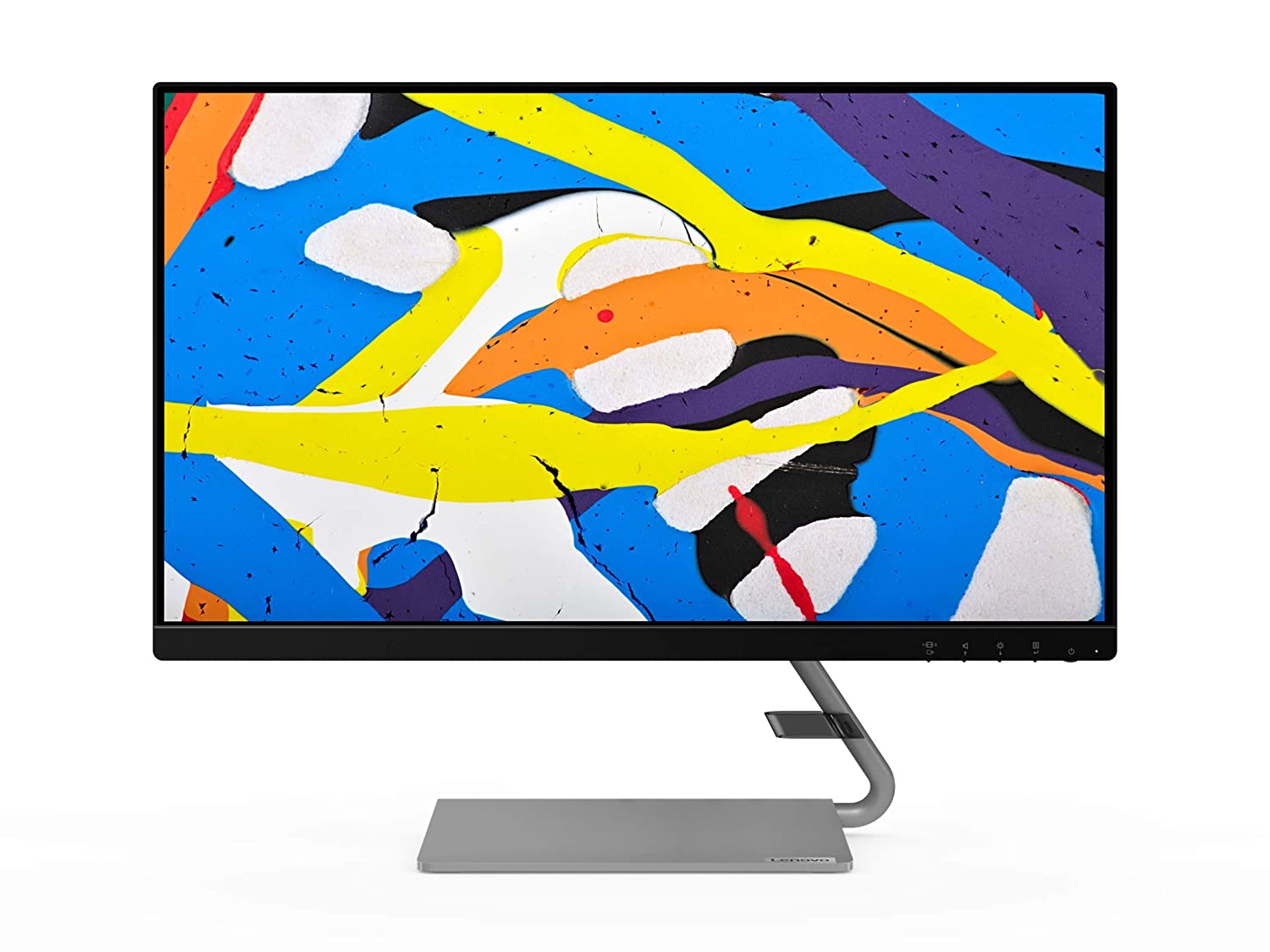 This Lenovo monitor is one of the best monitors if you want to purchase a monitor for the purpose of editing. The design of this monitor is very premium. It is very thin with a width of 6.9mm. However, due to this slim and sleek design, it is prone to damage easily, if not handled with care. The monitor is very sleek and stylish.
The display is 23.8 inches wide and it is an FHD, i.e., full high-resolution display. It has a refresh rate of 75 Hz and even comes with AMD FreeSync technology, making it an ideal choice for casual gamers as well. The response time on this monitor is 4 milliseconds, which doesn't really matter since the main purpose of purchasing this monitor is video editing.
The monitor comes with an HDMI, a VGA, and an audio port. It also has built-in speakers for multimedia purposes. It also has a cable holder for cable management.
The monitor has a very good FHD display, with a colour gamut of 72% NTSC. The PPI of this monitor is also very good, placed at 92 DPI. The viewing angles are good as well, with 172 degrees, both ways, making it a very good display for editing and office work purposes.
It is currently priced at rupees 11,999 on Amazon.
PROS:
3-year warranty period.
Sharp display with a good PPI
Very good colour range
Anti-glare supported IPS panel
CONS:
Very fragile and prone to damage
High response time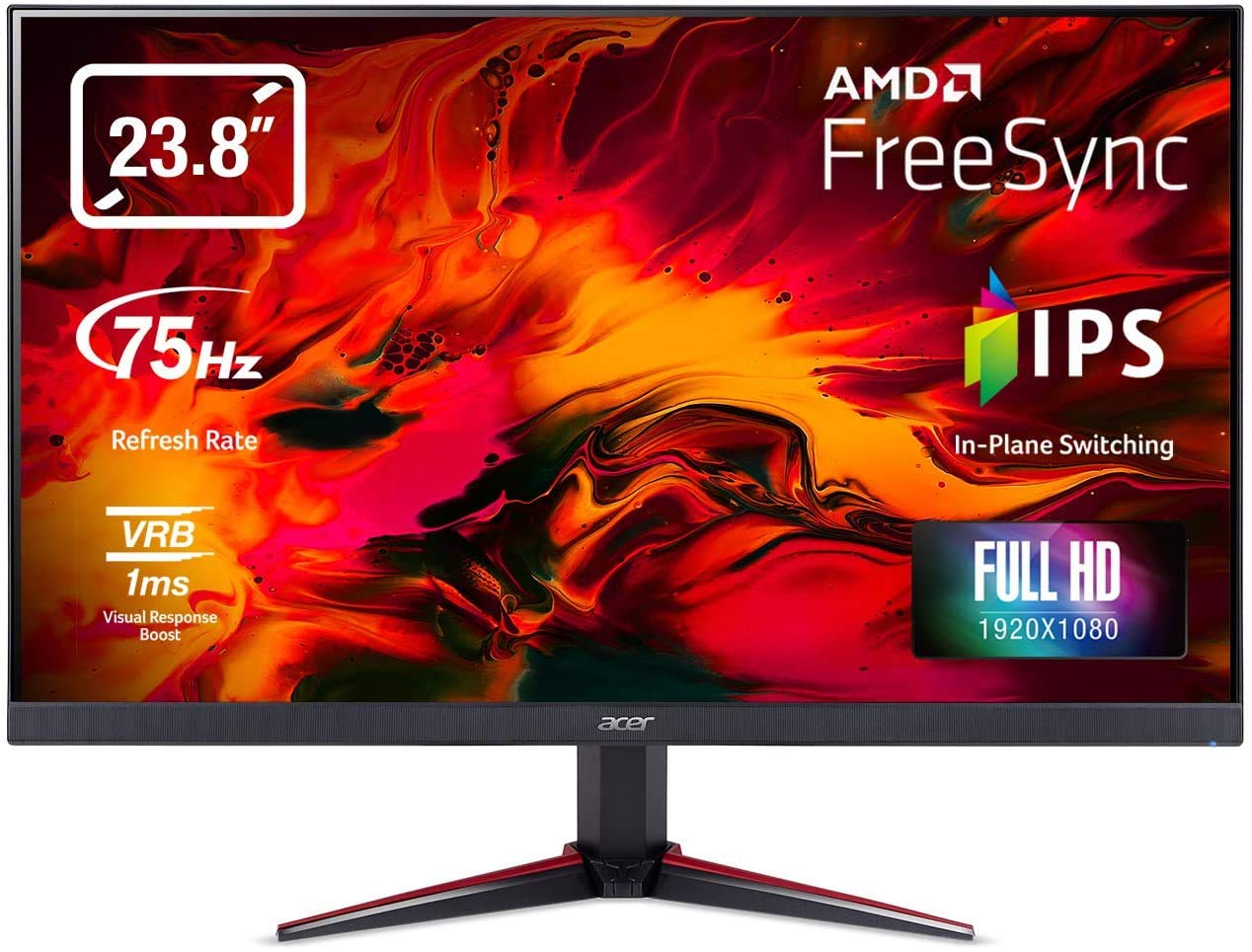 The Acer Nitro VG240YB 23.8-inch monitor is a very good option for editing as well. It has a well-made design, and although most of it is plastic, it doesn't feel cheap at all. The monitor is a bit on the heavier side though. Another great part of the design of this monitor is that it is also wall mountable. It is a bezel-less IPS display and has speakers too.
The 23.8-inch monitor comes with an FHD display with a refresh rate of 75 Hz. It also supports FreeSync and has a very low response time of just 1ms, which is ideal for people who want to play games online on it as well.
The monitor comes with 2 HDMI ports and 1 VGA port. Also, the monitor comes with an HDMI cable and a VGA cable as well, which is an extra plus point.
The viewing angles on the monitor are very good. It has 178-degree angles, both vertically and horizontally. The colour gamut is not mentioned by the company. However, the monitor has a PPI of 117.6 DPI, which makes it a very good display panel.
The price of this item currently on Amazon is rupees 12,494.
PROS:
Very high PPI value
Bezel-less display with good viewing angles
Low response time
Wall mountable
CONS:
The company doesn't mention the colour gamut
Plastic might feel cheap to some people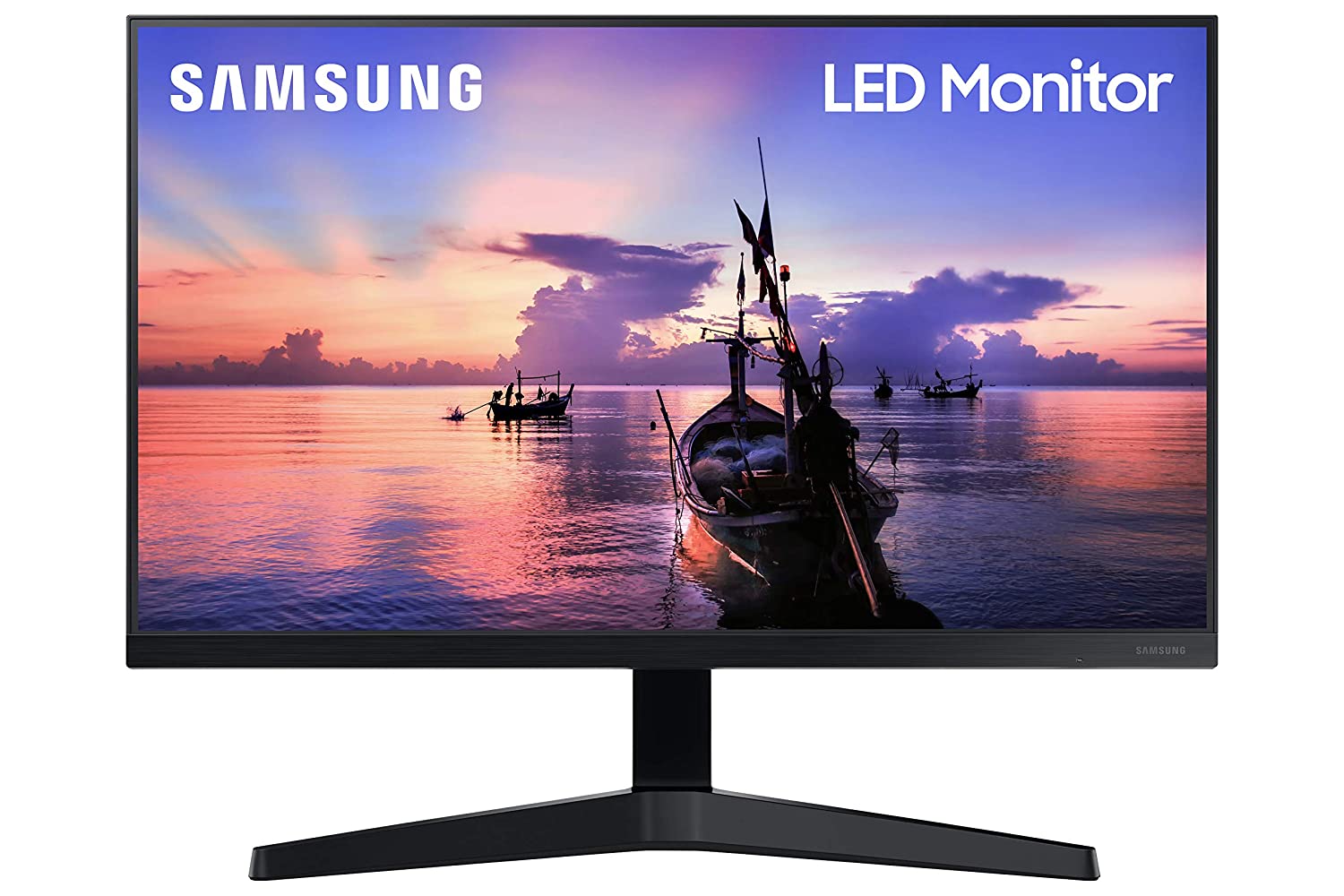 This Samsung monitor is a good choice for people who prefer to keep things simple and don't require too much from their monitor. The monitor has a very basic design and it is simple. The almost bezel-less monitor has a classic and premium design and looks due to the matte style finish. However, this monitor doesn't have an IPS panel, but Samsung doesn't mention which panel it uses in this monitor.
The 24-inch monitor has an FHD display with a refresh rate of 75 Hz supporting FreeSync technology. The monitor has a response time of 5ms, which makes it not suitable for people looking to game as well on this monitor.
The monitor has normal connectivity. It has an HDMI and a VGA port. The monitor does not have built-in speakers.
The viewing angles on the display are not good. Samsung provides no information about the display. Amazon labels it as an IPS panel, which seems to be incorrect as the quality is not like that of an IPS panel. The colour production is good, owing to it being an LED monitor. The blacks are very sharp. It has a 70% colour production of an HDR display. It is very good for people who are beginners and want to learn to edit.
It is priced at rupees 9,900 on Amazon.
PROS:
Cheap price
Great colour production
Great matte design
CONS:
Falsely labelled as an IPS panel
Viewing angles are not very good
Lack of built-in speakers
This LG monitor is probably the best monitor for editing in this price range. This FHD monitor is designed using plastic. The overall design feels a little cheap. The monitor is wall mountable as well, making it a good choice for people wanting to use it as a TV display too.
The monitor is an ultra-wide FHD display. The resolution is 2560x1080p with an aspect ratio of 21:9. The display panel is an IPS panel. The display has a 60 Hz refresh rate with a 5ms response time. This makes this monitor not suitable if you want a gaming monitor as well. The viewing angles are 178 degrees both ways.
The monitor only has two HDMI ports for connectivity and audio ports. Therefore, if you want to connect it via a VGA cable, this monitor won't be supported and you should look for a better monitor elsewhere.
The display has 99% sRGB palette and reproduces colours very well. Although it is a 6bit+FRC monitor (and not a true 8bit panel), there is no issue with differentiating the colours with minor variations. The only downside of this IPS panel monitor is that owing to it being ultra-wide, the PPI decreases. However, this decrease is not as big to warrant not purchasing this monitor at all. This is a very good display monitor for editing, be it video editing or photo editing.
The price of this monitor on Amazon currently is rupees 13499.
PROS:
Very good colour contrast and sharp colour production
Ultra-wide display for a wider viewing experience.
Great calibration options to calibrate the display
Wall mountable
CONS:
Lack of VGA port
High response time
Lower PPI than other monitors on this list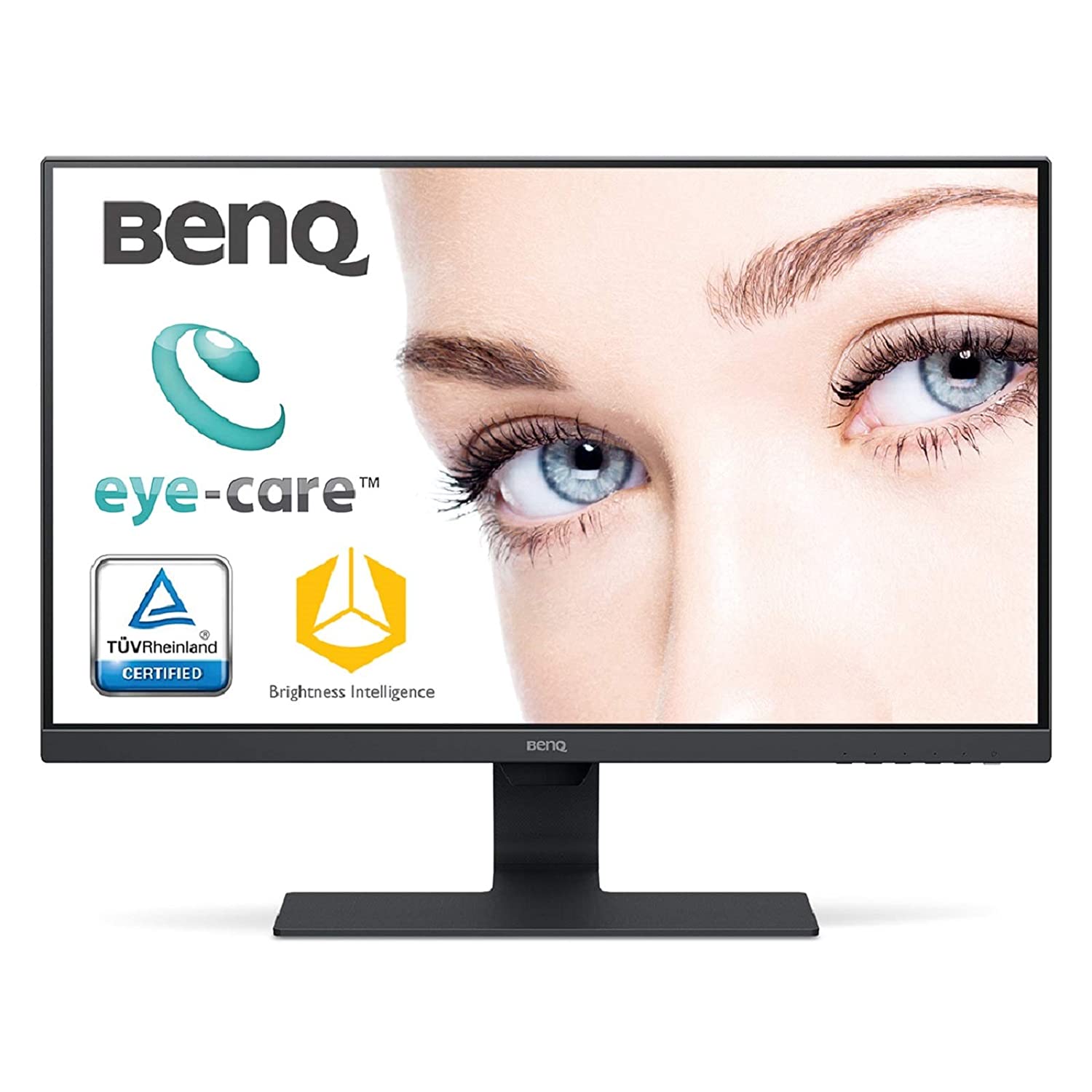 If you want the clear best monitor for editing with wide display quality, this 27-inch BenQ monitor takes the cake. This monitor has a simple design with carbon fibre which gives it a premium matte-like finish. It is a very sturdy designed display panel. The design is simple, yet elegant and it is very sturdy as well. Also, this monitor is wall mountable as well, making it a very good option for multimedia usage as it has built-in speakers too.
The monitor has an FHD display and an IPS panel. The refresh rate is 60 Hz on 1080p but can go to 75 Hz on lower resolutions, but this isn't our concern since we want a monitor for editing purposes. The monitor also has a 5ms latency response time, making it unsuitable for gamers. If you want to play even entry-level games, do not purchase this monitor.
The monitor comes with D-port, VGA port and HDMI port along with an audio port and 3.5mm headphone port as well. The connectivity range, therefore, is far wider than other monitors in this list.
The colour production on this monitor is very good. The colour gamut of this monitor is 72% NTSC. Owing to the wide display, the PPI is just at 82. However, if you want a higher PPI, you can go for the GW2480 version, which is a 24-inch display, with the same specifications as this monitor. The colour production is very good and it is especially recommended for editors.
The price of this on Amazon currently is rupees 13,480. If you want to go for the smaller GW2480, that too is available on Amazon at a price of rupees 9,980.
PROS:
Wide range of connectivity options
Great colour gamut range and sharp contrast
Great calibration features
A wide display of 27 inch
CONS:
A lower PPI due to the wide size
Not suitable for gamers
CONCLUSION:
All these monitors listed above are very good monitors for editing purposes. If you are a beginner or an intermediate editor, who wants to learn more about editing, while not wasting a lot of money on a new monitor. All these monitors have their own pros and cons. Choosing the correct monitor for yourself is not an easy task. It depends on multiple factors. Is editing your sole priority? Do you want to use the monitor for gaming as well? These are just a few examples of what you should ask yourself before deciding on a monitor.
If you want a monitor which can do a bit of all, you have two options- either the Acer Nitro 23.8-inch monitor or the LG 25-inch FHD monitor. If you require a wider screen, go for the LG monitor, and if a smaller screen is fine with you, the Acer Nitro is the better choice with its high PPI.
If you want a monitor for multimedia use and editing, the Samsung monitor is a good choice as it has very good colours. For office usage and a stylish sleek look, the Lenovo monitor is the best choice as it offers a good balance between editing and office work/ regular usage.
However, if editing is your sole priority, then the two BenQ monitors are the best choice for you. The wider 27-inch monitor is good for multimedia and editing together. If editing is your sole priority, then the 24-inch version is the choice for you.
Overall, if want the best price to performance ratio solely for editing, go for the BenQ GW2480. Otherwise, I would recommend the LG 25UM58 or the Acer Nitro VG240YB, as they offer the best overall performance.
This list didn't include the monitors with 144 Hz refresh rate as those monitors are oriented towards gaming and to achieve a higher refresh rate, they often cut corners in display quality. These monitors are recommended for beginner and intermediate editors. If you want to work at an advanced professional level, you need to go for a much higher budget to get better display monitors alongside better hardware.
Also, the prices of these monitors keep on fluctuating. Keep a watch out for the best deals and try to purchase the items during sales. The link to these products will be attached to the article itself.